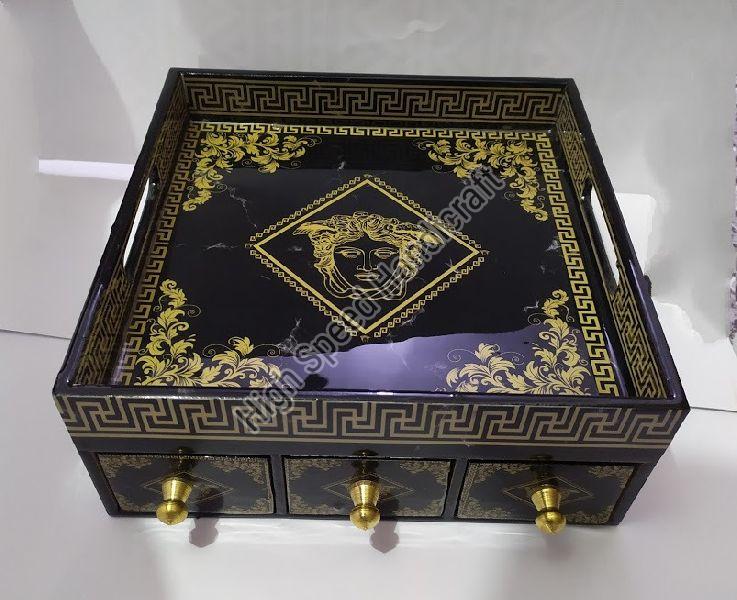 Kitchenware and serveware are valuable items to be bought for making a home utilitarian which is quite necessary as these things are needed for everyday use. Some of these items can be very helpful in amazing ways and also can be used as a tremendous décor item around the house. One of the best examples of such types of items is trays which are useful and also very beautiful items to keep in the dining room or the kitchen area. It is crucial to know how to present a tray in a graceful manner as there is a wide range of trays that can be bought from the market which are not only chic but work well with different types of decors and tableware of the room. Trays are made up of different materials like plastic, glass, metal, wooden etc. There is no tray as good as a Wooden tray because of its texture, classic look, unique form & style and highly durable.
The compartment wooden tray is an essential item in every household which has multiple separate compartments to provide plenty of room to store and keep various things. These trays can be used as a serving tray to serve different chocolates and candies. Also, it can be used as a decorative item to be placed in the entryway, console table or even on the bedside table to keep keys and other collectibles for easy access. Handcrafted by talented craftspeople, the compartment wooden trays is an exclusive accessory for family and friends which can be used to serve all sorts of assortments ranging from organiser to kitchen decor. These trays are an ideal example of simplicity with utility.
Organiser to be placed on the side table
The clean, smooth finished and sleek design compartment wooden tray combined with modern craftsmanship for a versatile and tasteful organizer to keep keys, mobile phone, jewellery and other similar items.
Beautiful Kitchen Decor
These elegant and beautiful trays add a unique charm to your kitchen decor by allowing you to store spices, oils, tea, sugar, coffee without creating any mess. These handcrafted trays keep your kitchen surroundings clean and fresh and hence, it is a perfect gift for a housewarming party.
In India, a vast variety of compartment wooden trays is manufactured and exported every year. The Indian exporters of wooden trays satisfy the requirements of numerous countries such as Singapore, Malaysia, Thailand, Sri Lanka, Dubai, and many more. The manufacturers and exporters of compartment wooden tray in India are popular due to the following vital aspects-
They have a huge manufacturing area equipped with advanced tools and latest machines in order to produce a variety of products.
The compartment wooden trays offered by them are known for their superb quality and durability.
They have a team of experienced professionals and artisans with great knowledge of their work and also keep updated with the latest designs.
They have a team of quality experts who checks the product on various parameters to ensure only top quality products are delivered in the market.
They offer these exclusive ranges of compartment wooden trays at cost effective prices.
With so many companies manufacturing and supplying compartment wooden trays, it is recommended to choose a reliable compartment wooden tray manufacturer who is offering a high quality tray which can surely steal your heart. These unique timeless and useful trays are just the treasures needed by the house filled with love. You can easily put your compartment wooden tray with beautiful accents, for a different style to store your vanity accessories in an organised manner.