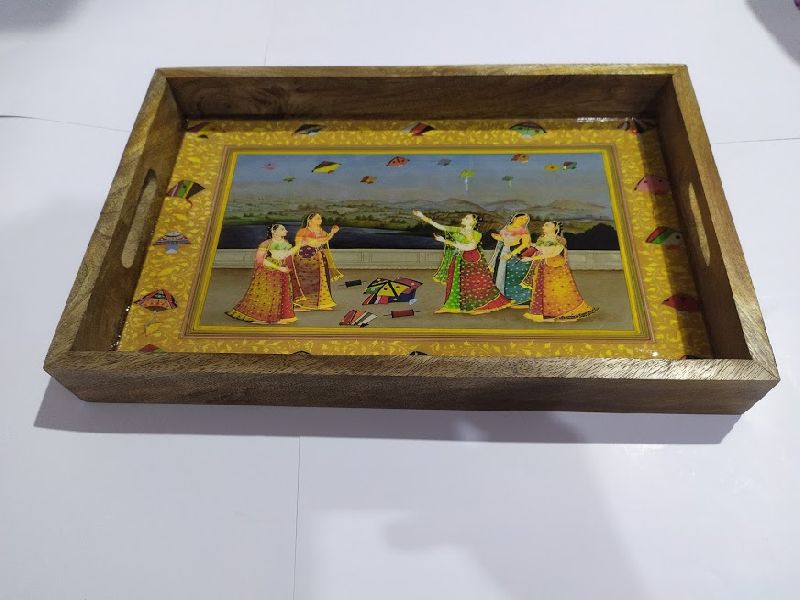 There's no tray like a polished wooden serving tray that comes with so many uses! Everyone loves it its rich texture, style and wood quality and looks good at any time, and anyplace. It comes with subtly unusual forms and contemporary engraved handles. Hence, the wooden serving trays act as a perfect serving piece. By buying this exclusive piece of wood, anyone can add the rusticity of pure wood to the modern organic table.
What is the usefulness of a polished wooden serving tray?
Polished Wooden serving trays are flat, comes in many shapes, but with raised edges that stop things from sliding off them. They are made in a huge range of designs but are usually found in oval or square forms, seldom with a pattern or attached grips with which to carry them. Wooden serving trays are mostly used by people to serve, eatables drinks and snacks for guests. It presents an attractive and inviting way. As socializing is an essential aspect, serving trays made of polished wood has become a sign of good mannerism and sophistication. Handcrafted by skilled craftspeople, the wood trays can be used to serve all sorts of varieties ranging from sliced bread, dried fruits and tea cakes to appetizers such as mini tartines or macaroni and cheese.
Different ideas to use polished wooden serving trade:
Wall decor
To frame and highlight your favourite keepsakes, polished wooden trays are the best. Gone are the days of decorating walls with photo frames. Now get sophistication in walls with these polished wooden trays.
Organizer
Turn your polished wooded serving tray to modern craftsmanship for a tasteful and versatile organizer. Clean, sleek designs combined with a wooden tray and beautiful accents, for a unique style to store your vanity accessories.
Coffee table display
Be it simplistic or vigorously polished serving tray, these evokes feeling of hospitable and happiness in the minds of the visitors. This accessory particular for family and friends get together with delicious food and drinks and helps deliver a sense of fulfilling and warm hospitality.
Decorative pieces
Wooden Decorative serving Trays have a simple and clean design. It produces a stylish backdrop for beautifying objects, small planters vases, candles, or a seasonal arrangement. Mix and Match the styles, tones, looks of these wooden trays with flattering decorative pieces to produce the right ambience in your living room!
Kitchen usability
It can be an ideal gift for a housewarming party. Wooden polished serving trays add certain magic and elegance to your kitchen. Use these useful trays to store frequently used items like spices, tea bags, oils etc. Just use them as an embellishing accent to represent personal keepsakes, frames, small ranchers and flowers to keep your kitchen cool. Wood Trays will fit effortlessly into any style of your kitchen.
Wooden Trays have our hearts stolen! These unique enduring trays are just resources of a love-filled house demands. They are a attractive example of uncomplicatedness and utility.
Table Centerpiece
Take a wooden tray by filling the bottom with a layer of sand. Now take some painted pillar candles and votive lights and arrange them in a decorative pattern in the centre of the tray. Decorate the fringes with any of the matter of your choice- it can be pebbles, grains, cups, bamboo sticks, anything! Place it on the table and make it a pleasing experience for your guests.
How to get a classic piece of the polished wooden tray in India?
Polished Wooden serving tray prices will vary depending upon wood selection and the artwork on it. They are available to buy at local and online stores. They are also available at online shops, furniture stores and decorative item stores. People can even opt for custom-made wooden polished serving trays from reputed stores or skilled carpenters. These wood trays have distinctive laminates to endure heat from food, drinks and utensils. Wood trays for furniture are unique and can be distinguished from other modifications because of their large sizes.
So buy a piece of your choice online now at a reasonable price.