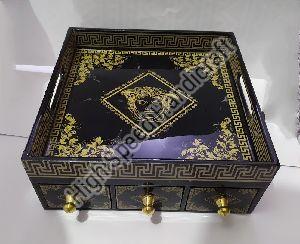 We all know that trays are commonly used in household for serving but what we do not know is that they can also be used as decorative items if you know the right way. Various types of trays are available and one such type is the compartment wooden tray. You will see that how simply they just change the entire look of your coffee or tea table. Wooden trays in themselves are aesthetic to look and will change the way you look at trays serving trays and utensils.
A compartment wooden tray as the name says is a tray that has few compartments to store things such as nuts if you are using it to store food items and you can keep other things if you are using it to store other items and accessories.
How different compartment trays are from other types of trays?
Regular trays are just for serving while compartment trays are used to store things in mini compartments provided with it. You will also see that a lot of companies and brands have come up with handcrafted compartment wooden trays that just make the entire look elegant. While you are waiting to add that extra element to your home decor, you can choose compartment trays that will help you to be minimalistic yet stylish.
A style that will leave you speechless
Handcrafted with perfection and design that is hard to find, you can easily fall in love with the masterpieces. The designs are carved in high-quality wood and the colours are added to make it look attractive. With mini compartments where you can store dry fruits, jewellery and other accessories, a beautiful and designer knob make it easy to pull the compartment. All you need to do is, find the right design that will match your home decor. You can also use them as a showpiece or a home decor item to add beauty to your home.
You can also use the compartment trays to keep your coffee or tea table organised and without any mess. Small compartments will keep everything hidden and you can take them out only when needed. Also, it will look less like a tray and more like a home decor item that will woo your guests. They will simply fall in love with the look and the decorative factor that they add to your home.
How to find the best compartment wooden tray?
With so many companies and brands selling compartment trays, there are high chances that you might get something that is not worth the price or quality expected by you. To avoid such a situation, you need to be very careful while choosing a company or brand from whom you are buying the item.
You can look for a reputed compartment wooden tray manufacturer that will offer you a high-quality product at a price that is hard to find elsewhere. All you need to do is check their products and the testimonials by customers who have purchased from them before. It will help you to understand what can you expect from them as customers and can proceed accordingly. All you need to do is research a bit about the company, its reputation and from how long they have been in this business of selling handcrafted, designer compartment wooden trays to know what you will be getting from them. You will be able to know the type of designs and wood quality they offer so that it will help you to decide whether to buy it or not.
Companies that are into manufacturing, supplying and export will be able to provide you with collections that are unique and elegant at the same time. With the knots and natural imperfections of the wood, you will be getting one of a kind design for a tray that no other tray will resemble. All you need to do is consult a reputed compartment wooden tray manufacturer that will help you carve one as per your requirement or will help you get a collection to choose from.