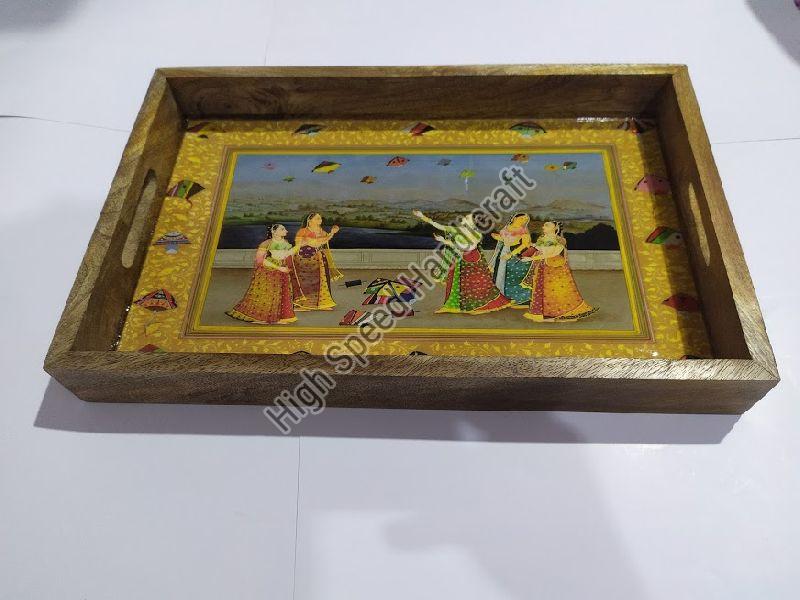 Wooden trays are the most versatile household items in your life. These flat trays come with raised edges in order to protect things from falling off. These wooden trays come in a variety of shapes like round, oval, square and rectangular with stylish attached handles. The quality, texture and finishing of the Wooden trays depends on the type of wood used for manufacturing. There are many different types of wood such as Traditional English tea trays are often made from hardwood like mahogany, maple, walnut and cherry. Contemporary wooden trays can also be made from bamboo, oak and teak.
Primarily, they have been made for the purpose of serving drinks and snacks to enhance the food presentation especially when hosting parties at home, but nowadays their tasks go way beyond serving. The changing trend in the market brings the designer printed wooden tray which is indeed an unique piece available in numerous pretty patterns, colours and designs to steal your heart. This exclusive handcrafted accessory is considered to be an ultimate decorative item to include in your home's surroundings.
Attributes of a high quality printed wooden trays:-
Made with excellent quality wood
Smooth finishing
High strength
Accurate dimensions
Long life span
Print and colourfastness
If you are looking for a beautiful handcrafted printed wooden tray with all these above mentioned features with elegant styles then you should choose a printed wooden tray exporter who is engaged in supplying superb quality printed wooden trays in order to cater to different requirements of the clients from all over the world.
Amazing ways to use Printed Wooden Trays
These fabulous pieces of handcrafted art have now become a sign of elegance and mannerism. These trays are a great investment as they make it easy to carry things around the home, serve food and beverages and as a base for placing your décor items like flower vase, candles, green pots etc. It is a great addition to your room, kitchen and living area. Some different ideas are as follows:-
Tea/Coffee Serving Tray: Having evening tea/coffee in the living room with family and friends becomes even more fun and special when served in an eye-catching wooden tray. This handmade printed wooden tray is a must-buy as it elicits the feelings of warm hospitality to the guests. These unique Printed wooden trays with extra-wide surfaces makes them easy to move and to keep a tea/coffee table in an organized manner. Wood adds a touch of earthy tone to your regular coffee table with alluring prints on it.
Side Table or Wall decor: Wooden trays are the best versatile weapon for your home decor which can easily brighten up any side of your home, especially when they are placed on walls and comfy side tables. These sturdy trays with attractive prints stand out for its shiny buffed polish, unique finish looks cool and sophisticated on walls.
Organiser: Printed wooden tray as an organiser is an essential thing in every household. It is indeed an eye-catching catchall for your vanity, jewellery, keys and other collectibles. It provides plenty of room to store and organise things which helps in keeping your room and tables neat and clean in an unique and modern style.
Decorative centrepiece: This beautiful tray can be used as a simple centrepiece to spruce up your dining table. It is a beautiful way to change your dining experience in your normal routine. Any vintage or modern printed wooden tray can be used to put aromatic candles, small plants and even condiments to create the right ambience for your living area.
Lively Kitchen decor: Kitchen is that area of your house where you spend most of the time, so this useful tray can be added to your kitchen decor in order to provide a cool ambience. Therefore, Printed wooden trays are considered as an ideal gift for housewarming parties which are used for storing spices, oils, coffee containers, tea bags and much more.
With so many uses of printed wooden trays in everyday life, it's demand is increasing rapidly. There are a number of companies engaged in the manufacturing, supplying and exporting of these handcrafted printed wooden trays.
The exporters of printed wooden trays should take due care of the following crucial aspects :-
They should invest a huge amount in developing state-of-the-art infrastructure that spreads over an extensive area.
They should source finest quality raw materials for the production from the reliable and trusted vendors and dealers of the industry.
They should have separate departments such as the production unit, quality control, warehouse & packaging and administrative sections.
They should be supported by creative and sincere professionals who employ their creativity in developing traditional designed crafts.
Their artisans should keep themselves updated with modern designs in order to offer a product range in an amazing combination of traditional & prevailing designs.
They should have appointed a team of quality experts who perform the entire quality tests under some strict parameters.
They should use quality packaging material to ensure safe loading-unloading and transits of printed wooden trays.
They should offer an exclusive range of handicrafts at cost effective prices.
Final Words
Thus, it can be stated that printed wooden trays are a timeless and multifunctional element for creating an aura in your home decor. These trays are highly applauded by people all over the globe due to which it has a skyrocketing demand.